Big And Fine LEDs Aside, Here Are Some Notable Display Innovations Seen At ISE 2023
February 8, 2023 by Dave Haynes
I'm kind of drafting off some content from Sixteen:Nine's German language content partner invidis from some insights from last week's ISE trade show – including some observations here about smaller but notable display innovations sprinkled around the trade show floor.
There were, like every year, lots of LED display companies showing R&D efforts with super-fine pixel pitches, as well as LED embedded in glass and in transparent film. I also saw an R&D product from BOE that was chip on glass – essentially LED and electronics bonded to glass instead of conventional substrates.
But invidis also notes in a post the advances in areas like color e-paper and reflective LCD.
At first glance, hardly any new display developments can be expected. Larger screen diagonals are technically and logistically not feasible, higher resolution (8K) is not wanted politically due to energy consumption in the EU – and in everyday life for the majority of digital signage projects it is also not necessary. LCD displays are already extremely thin, even though Samsung presented an even flatter LCD series with a 40 percent smaller installation depth to invited partners at the ISE. In the future, Sony will offer display bezels made from 99 percent recycled plastic, similar to Samsung, which placed sustainability at the forefront of its ISE presence.
The industry will have to wait further for locally dimmable and therefore energy-saving LCD displays with MicroLED backlights. There were also no announcements about the Quantum Dot LCD further development (such as Samsung QLED) at the ISE.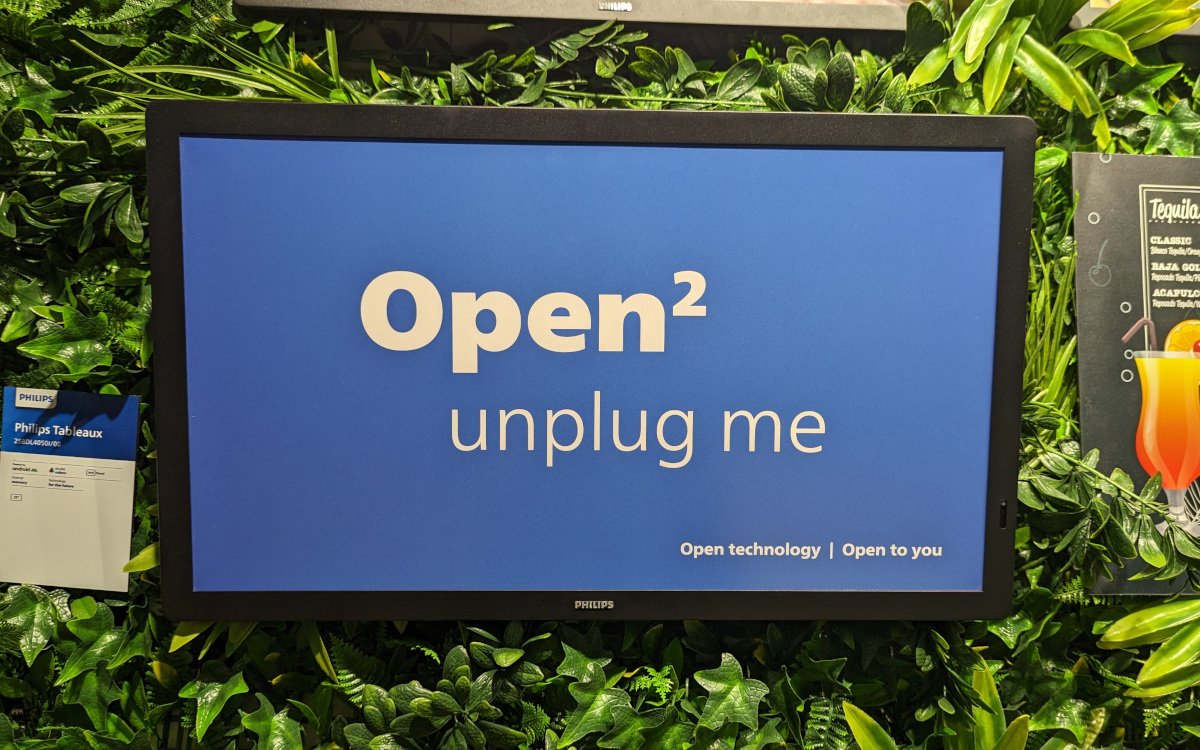 E-Paper – Full color, sustainable and light
It is really exciting and innovative at the moment beyond the standard solutions. Full-color e-paper displays, which can replace classic LCD displays in digital poster applications, are the most advanced. At the ISE stand, PPDS showed the new Philips Tableaux series, an e-paper display with 60,000 colors that was visually impressive. PPDS calls the new display category "Zero-Power", since bi-stable e-paper displays only require very little energy when changing the motif. Sharp/NEC also presented e-paper-based color displays at the ISE, although these were still prototypes.
As part of sustainability initiatives, e-paper displays could quickly gain in importance, especially in retail. However, the technology is not suitable for moving image content. Nevertheless, it can be assumed that the technology known from ESL in food retailing can also quickly gain in importance for digital poster touchpoints.
Me: I saw the Tableaux display at a few points around the PPDS stand. I thought it was nice, but the price is probably going to chase off at least some buyers. I also thought the colors – though the range and support has opened up a lot – were still muted. Color e-paper displays have been around for years, and have been steadily improving. This announced product at ISE seems to relate to a 2021 announcement between E Ink and TPV, the display manufacturer for Philips product.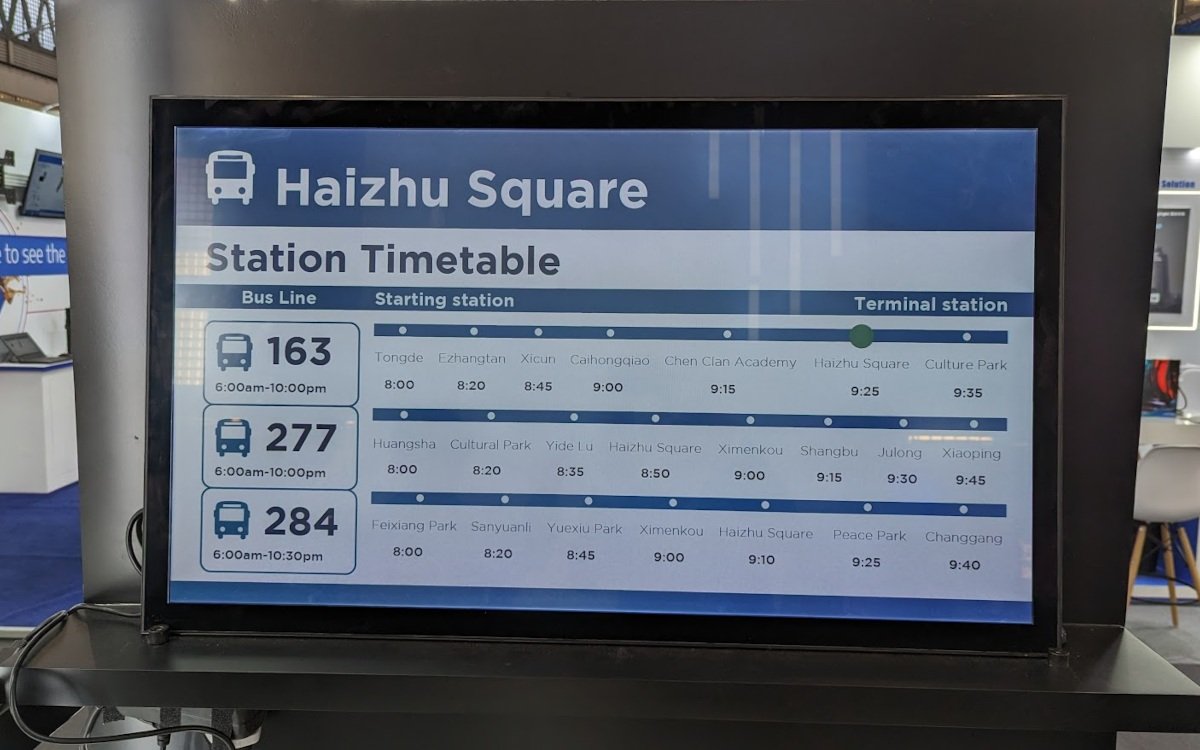 BOE Reflective LCD – Low Energy Displays for DooH and Public Transport
Still under the radar of most ISE visitors, the Chinese display giant BOE presented a new, very innovative display category with reflective LCD displays. The very thin, reflective LCD displays do not require an energy-hungry backlight, which is the biggest energy consumer on LCD displays.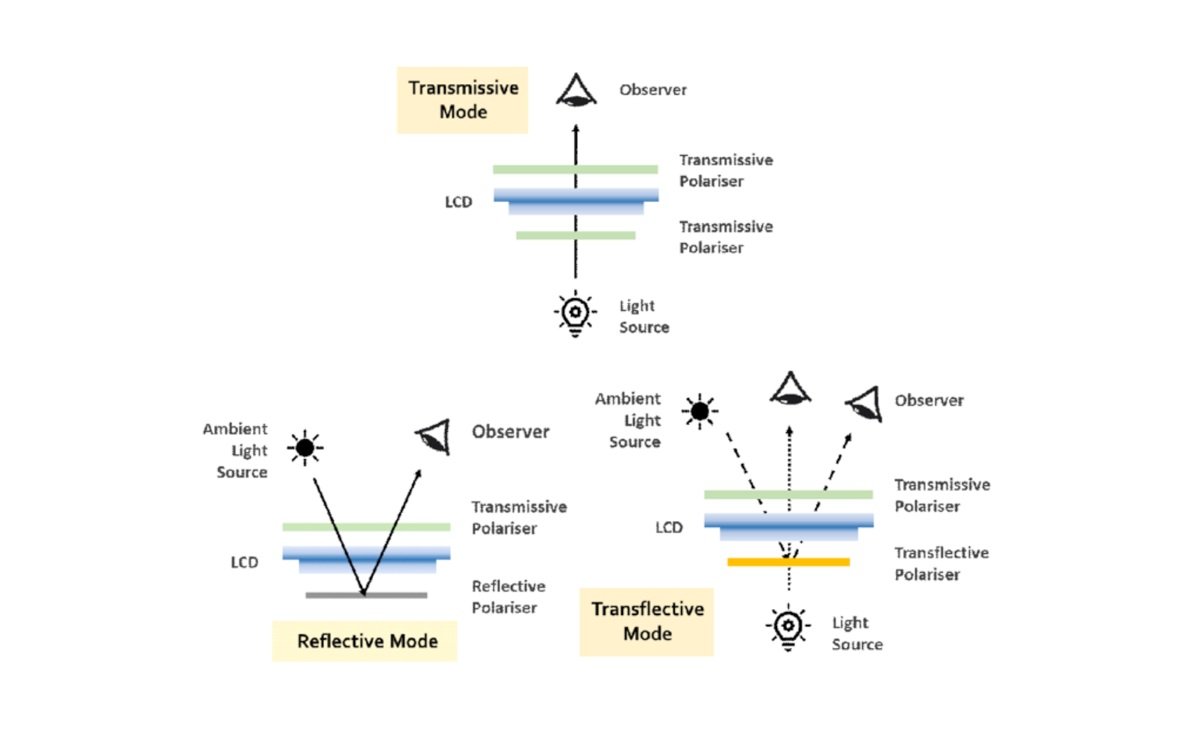 Reflective LCDs use ambient light from a frontal source, typically ambient light. Transmissive displays, on the other hand, use LED backlights to illuminate the surface. With a combination of reflective and transmissive properties, a transflective LCD – as already used by LG for sunlight-readable displays – can use the ambient light and the LED background lighting at the same time.
BOE is already offering the new display technologies to its customers with screen sizes of up to 42 inches. The highlight: the energy consumption for the 38.2-inch full HD display exhibited at the ISE is just 8 watts. In contrast to e-paper, reflective LCDs can also display moving image content and are therefore also interesting for DooH applications. When daylight is no longer sufficient, a front edge light provides visibility. In addition to DooH, BOE sees transit applications (public transport) in particular as ideal application scenarios, because the displays can be supplied with sufficient power via solar cells.
Me: Reflective displays are interesting, particularly given the need to reduce energy consumption both because of rising operating costs and because it is the right thing to do, when it is possible. There are a couple of companies I've spoken to working on this tech, as well: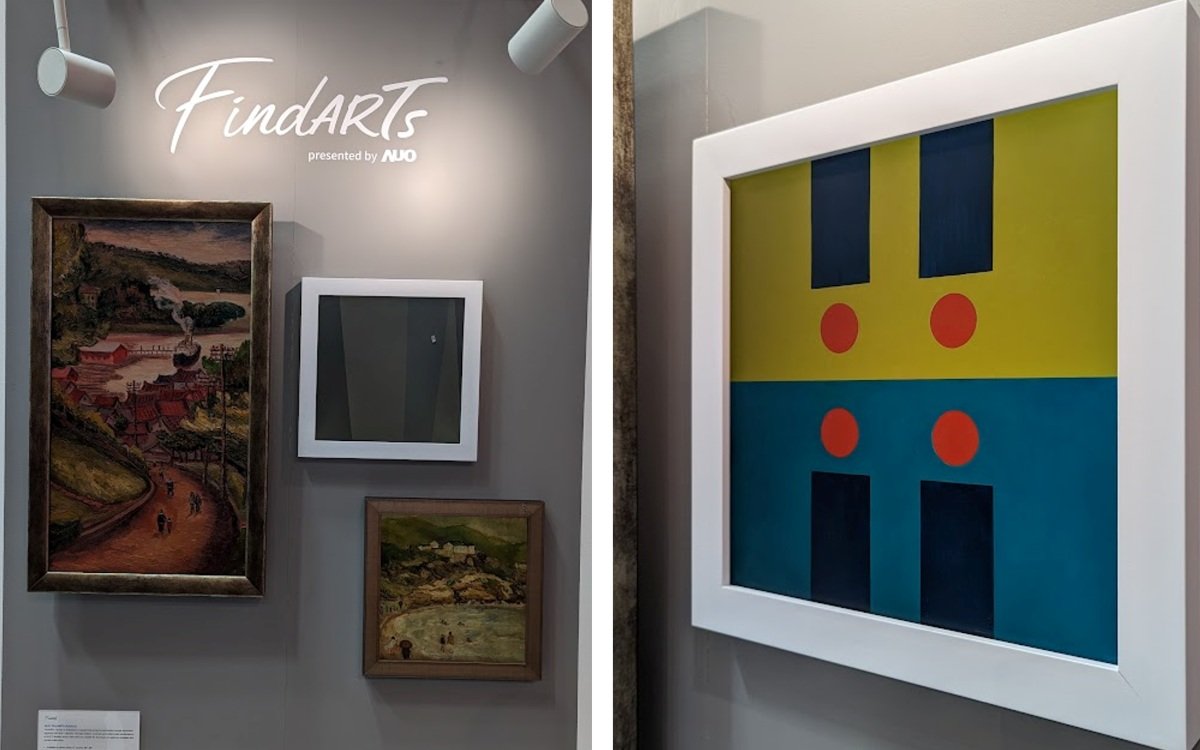 AUO Art – The Art of Anti-Reflection
While BOE wants to revolutionize the digital signage industry with ambient light reflections, AUO has turned anti-reflection into art. In Barcelona, ​​the Taiwanese display supplier presented LCD displays with Art – which stands for Advanced Reflectionless Technology . With AI support and a special surface coating, the displays show works of art without image distortion and reflection. These displays faithfully represent digital images down to the finest brushstrokes, subtle tones and textures without altering the work, presenting it as the artist intended.
The image display, which is continuously adapted to the current lighting conditions, is absolutely fascinating, and with wooden frames the works of art look like they are in a museum. The displays are available in 17-inch square and 32-inch and 85-inch regular digital signage aspect ratios. In terms of business model, AUO relies on a subscription model in cooperation with world-famous museums and blockchain technology.
Me: Wish I had seen this, though I saw an earlier 4K version of this at Touch Taiwan, at the AUO stand, in 2019.