A Peek Behind The Walls Of Samsung's Black Fortress At ISE 2023
February 8, 2023 by Dave Haynes
As noted in a couple of earlier ISE posts from the show last week, Samsung made what many thought was the curious decision to restrict admission to its booth – putting much of what was available to see behind black walls and making attendees register for scheduled, curated tours. Those who registered were not allowed to take photos inside.
I passed on that – not wanting to spend finite time trapped listening to the glories of desktop monitors, but did go in on the last day when show crowds were smaller and I made it clear I didn't want a full tour.
A few people I saw through last week said the policy didn't make a bunch of sense, and one industry vet said he flat out asked how he was supposed to relate to his customers what he saw from Samsung, given that he could not take any photos.
My German content partners at invidis have a post up that goes into the whole dynamic and what they saw when they did go into the black fortress. Here's an auto-translated English language version of that …
No other ISE trade fair appearance polarized people as much as Samsung this year. Because apart from a MicroLED and a sustainability zone, there was nothing to be seen at Samsung: The world market leader preferred to present all solutions and innovations behind a black wall, excluding the general ISE public.
"We have to stay outside" – that was the feeling of many ISE visitors who could experience very little from Samsung this year. Even if the publicly presented green signage solution approaches under the motto "Everyday Sustainability" are a widely visible and not only superficial obligation, it was still somewhat disappointing that neither an iconic highlight showcase like a new The Wall nor the wide display and to present the range of LED solutions to the trade fair public.
There were many rumors in Barcelona about the reasons for the stand concept, but nobody in charge wanted to comment publicly. But those who got the chance to look behind the wall could discover many small and large innovations. Unfortunately, we cannot publish our own photos, as the press was forbidden to take photos and videos this year. We are therefore dependent on a few official photos from Samsung.
Me: My phone camera evidently just went off on Friday and I found this photo of the two new microLED The Wall productsL
Better contrast with less brightness
Beyond the in-store mainstream, sunlight-readable displays are playing an increasingly important role. Germany and Scandinavia in particular are experiencing high demand for displays that are suitable for use in sunlight. While more and more LEDs are being installed in shop windows in southern Europe and overseas, ultra-bright LEDs are frowned upon for optical and environmental reasons. Samsung will be renewing its range of high-brightness displays over the course of the year with a new generation based on Real RGB panels. According to Samsung, the new shop window displays at 3,500 nits offer the same contrast (= legibility) as 5,000 nits bright displays on standard LCD platforms. The most important effect: significantly less power consumption and heat generation.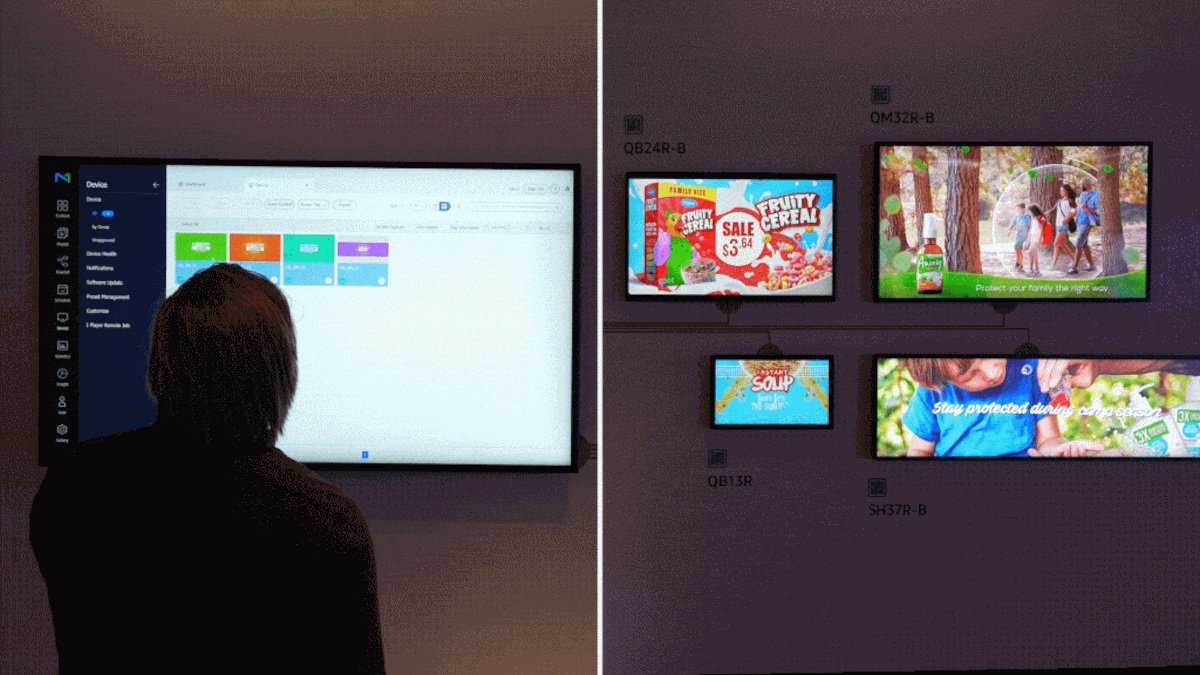 Sustainable with new Samsung remote management software platform
The secret star of the ISE was a large number of new digital signage remote management platforms, which are naturally difficult to visualize on exhibition stands. This was also the case with Samsung, which gave partners a first look at the new cloud signage platform. According to market information, the modern platform is a completely, newly developed digital signage platform equipped with many management functions and offering a wide range of energy-saving functions.
Additional diagnostic features include real-time power consumption monitoring, brightness level scheduling, remote brightness adjustment and automatic device management. Like Magicinfo, the new platform supports all Samsung LCD displays, LED signage and B2B TV devices. The new platform will be presented shortly and, according to invidis, will support third-party CMS integration.
Me: I heard about this here and there all week from a variety of people. MagicInfo being wound down and this new platform spun up, which will compete even more directly with Samsung's CMS software "partners." But I have not seen any official announcements on it or had a good rundown. There was no real evidence – unless I missed it – inside their black fortress.
Not a new The Wall, but an Outdoor All-in-One
The new XHB LED series was developed for the DooH and event/sports area. With its maximum brightness of up to 8,000 nit 2 , the LED display enables good image quality even in direct sunlight. The XHB series is available in four variants: P6, P8, P10 and P16. Invidi's report. Adjusted energy efficiency has also reduced the power consumption of the XHB series by more than 15 percent.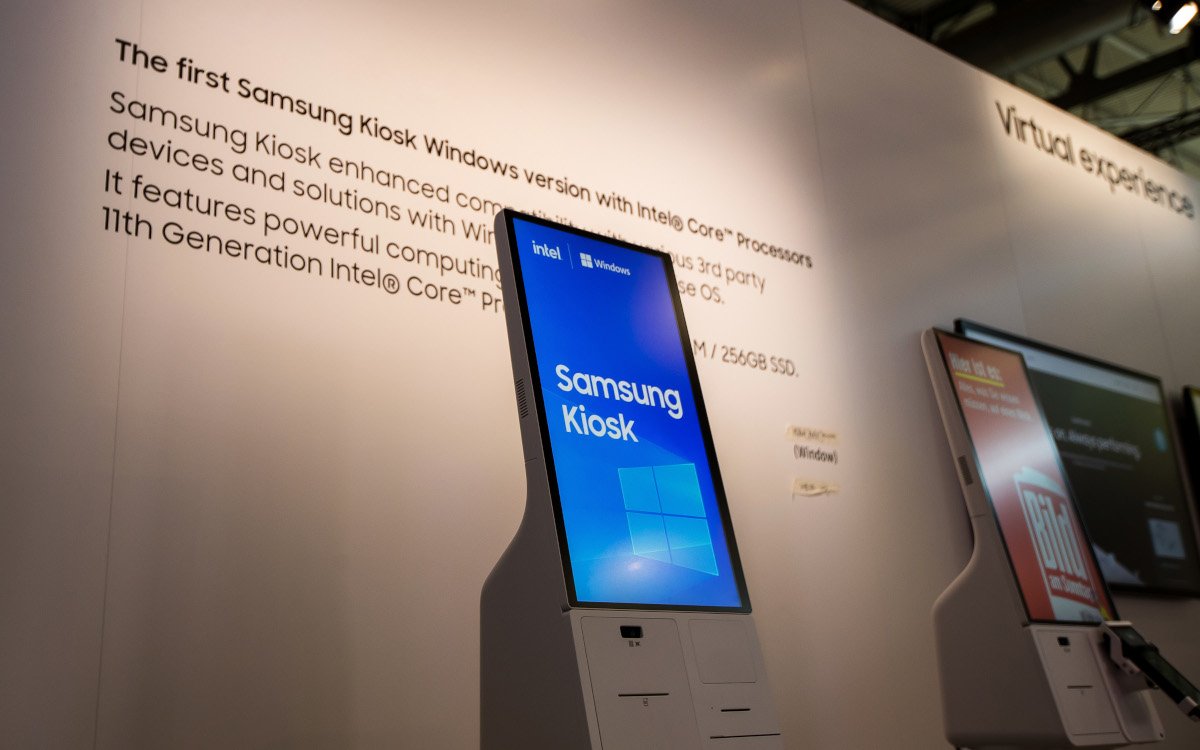 Samsung Newsstand now with Windows
Samsung also presented the first Windows-based Samsung kiosk at ISE 2023. In addition to the existing Tizen OS model, the Samsung Kiosk Windows version is compatible with Windows 10 IoT Enterprise OS ( invidis review ).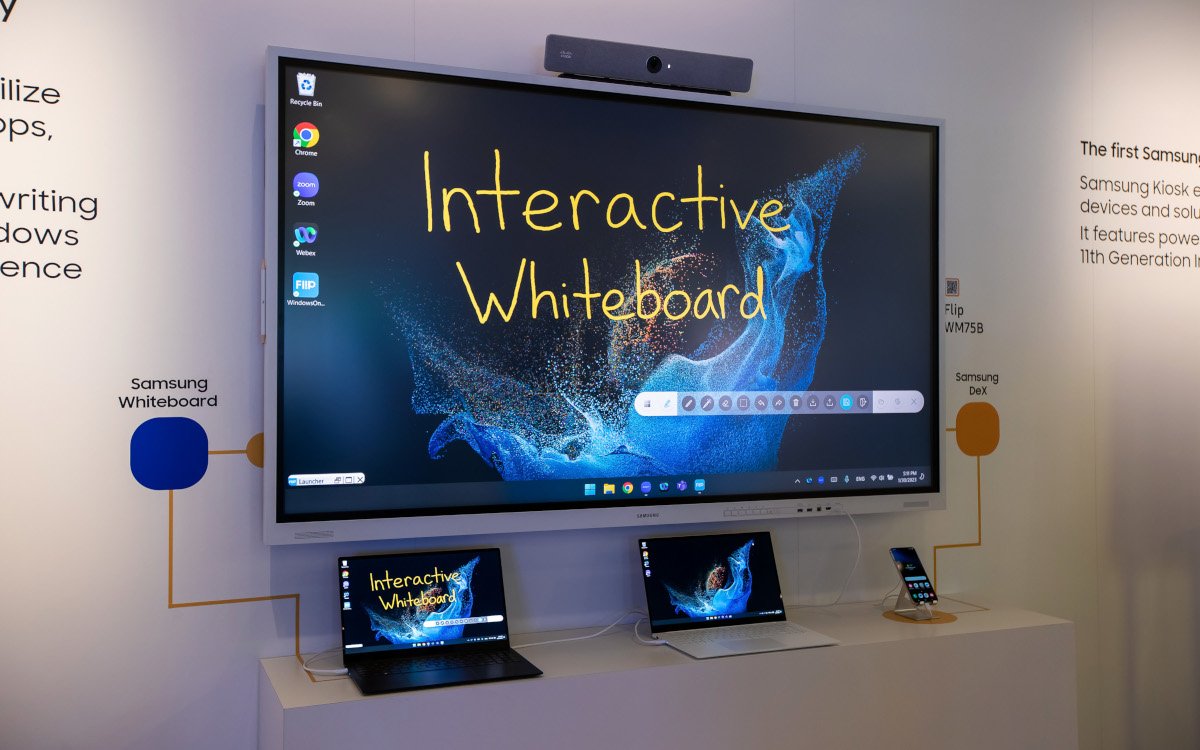 Samsung Flip Pro can now save externally
Thanks to Smartview Plus and Airplay2, Flip Pro enables up to six mobile devices to be shared at the same time. Content can be transferred, edited and analyzed together. Content created on the touchscreen no longer has to be sent by email, but can be saved directly on connected devices.